East Side Union High School District
First Semester results 2010-2011 51% improvement in GPA's!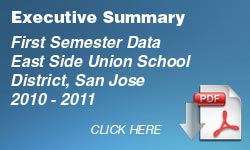 May 30, 2010
2009-2010 | First Semester results are in, 93% improvement in GPA's!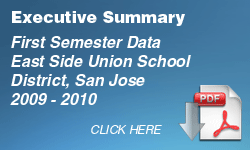 April 26, 2010
Read the Mercury News article about the programs success. "San Jose: Program helps turn apathetic teens into motivated students." Click here to read the entire story.
Schools
Click each school to view pictures, testimonies and results.
Northern CA
Venture Academy, Stockton, CA
Ganesha High School, Pomona, CA
Marshall Middle School, Pomona, CA
San Francisco / San Jose / Bay Area Schools
Andrew Hill high School
Brette Elementary School, San Francisco
Calero High School
Capuchino High School
Catherine's Center
Contra Costa College, San Pablo
Dr. George Washington Carver Elementary
Nystrom Elementary
Pittsburg High School
W.C. Overfelt High School
Woodside High School, Woodside, CA
Willow High School, Crockett
Oakland Schools
Mentoring Helps Students Make a Turn - Sept 13, 2012
"A new mentoring program in California's Oakland Unified School District is helping Oakland City Church transform its city in tangible ways." Read more at RCA Today.
Bridges Academy
East Oakland Pride Elementary
Emery High School – Emeryville
Global Elementary School
Horace Mann Elementary
Markham Elementary
Marsh Elementary
Lafayette Elementary School
Kimball Elementary
Park Middle School
Piedmont Elementary
Prescott Elementary
Rock Harbor
Sankofa Academy
Sankofa Middle School
Skyline High School
Santa Cruz Schools
Anzar High School, San Juan Bautista, CA
Aromas School
Bulldog Boxing
New School High School
Watsonville Community School
Shoreline Middle School
Star Community High School
North Bay Area
Hercules Middle School, Hercules, CA
Hercules High School, Hercules, CA
Pinole High School, Pinole, CA
Sacramento Schools
American Legion High School
Arthur Benjamin Health Prof. HS
C.K McClatchy High School
California Middle School
Camellia Basic Elementary School
Caroline Wenzel Elementary School
Earl Warren Elementary School
Hiram Johnson High School
John Bidwell Elementary School
John F. Kennedy High School
John Still K-8 School
Martin Luther King Jr K-8 School
Nicholas Elementary School
Rio Linda Preparatory Academy
Rosemont High School
Sierra View
Will C. Wood Middle School
Woodbine Elementary School
Beaumont Middle School
Beaumont Middle School
Oregon
Rosemary Anderson High School
Delta 180
Ella Darling Achievement Center
Lakeside High School
Soloman Middle School
Milwaukie, WI
Louisiana