Film of Success Continues to Inspire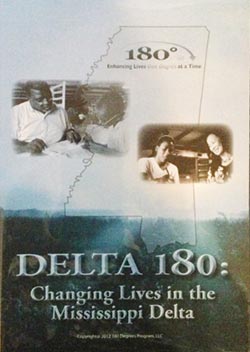 NICOLE SHERIFF - ddtonline.com | Posted: Tuesday, May 14, 2013 12:00 pm
GREENVILLE ― The story of one Greenville group's creation continues to gain recognition throughout the state and across the nation.
In December 2009, Jonas Hayes, then director of Delta 180, laid out a mission. He and other community leaders proposed creating a group to address the failing school system and rising juvenile delinquency in Washington County.
They reached out to the Salem., Ore,-based 180 Degrees, a national student-assistance program, for information about establishing the program locally, Hayes said.
Parts of that story were captured on film.
Cynthia McMillian, executive director for Delta 180 Inc. since August, said the program incorporates a curriculum and hands-on activities to change students' ways of thinking and to help them prepare for a successful future.
"It's about working with young people and helping them make better choices in their lives both academically and personally and moving them toward better citizenship in the long run," McMillian said. "And we do that by working on team-building skills, critical thinking skills."
Students join the program voluntarily or through referrals from school or youth court officials, and to date about 55 have completed at least 54 hours with the program, she said.
As the program began to flourish, Hayes said, organizers reached out to two filmmakers about possibly spreading the word about Delta 180.
Producers Robbie Fisher and Anne Rayner, of Cypress Bend Productions LLC, took on the project, and several months went into the making of "Delta 180: Changing Lives in the Mississippi Delta."
Fisher said the film crews began filming in 2011 at 11 locations around Greenville , primarily the Ella Darling Achievement Center and the Ruff House Gym, places where students attend the program.
The film was completed in about half-a-year's time and premiered last year at the E.E. Bass Cultural Arts Center.
From that, two versions of the short documentary emerged ― one 18 minutes long, the other 30 minutes ― together they have been accepted at eight.
The film incorporates interviews with students and their parents as well as those with volunteers describing their roles with Delta 180.
"Young people in this community, they have a story. And people have not heard that story," McMillian said. "As adults, we make assumptions that we've heard the story because we've been young … but we have no clue."
The film has won awards for best short documentary throughout the United States, including two this year: at the Northern California Film Festival and at the Crossroads Film Festival in Jackson. Fisher said the documentary also is up for an award at the Madrid International Film Festival in Spain, which will be this July.
---
Won:
Northern California Film Festival - won Best Short Documentary (2013)
Crossroads Film Festival - won Best Short Documentary (2013)
Madrid International Film Festival - won Best Short Documentary (2013)
Honorable Mentions and Merit Awards:
International Film Festival for Peace, Inspiration and Equality (Jakarta, Indonesia) - Award of Excellence, Short Documentary Category (2013)
Semi-Finalist: Action / Cut 2013 Short Film Competition
Columbus International Film & Video Festival - won Honorable Mention, Social Issues Category (2012)
Awareness Film Festival - won Merit of Awareness (2013)

Screened:
Chicago International Social Change Film Festival (2012)
Eugene International Film Festival (2012)
Sun & Sand Film Festival (2012)
S.U.R.G.E. Film Festival (2013)
Clarksdale Film Festival (2013)
Tupelo Film Festival (2013)
---