180 Degrees Program 2018-2019 Outcome Results - Eastside Union High School
- - Summer 2019 ~ San Jose, Ca.
180 Degrees Program classes in the Eastside Union High School District completed the 2018 - 2019 academic year with positive outcomes in every performance category. Annual averages of academic scores rose while disciplinary incidents and unexcused school absences declined. For full details, click here to review the performance report: 2018-19 ESUHSD
180 Degrees Program Nine Year Performance Report
- Fall 2018 - A recent report highlighting the performance results of the 180 Degrees Program over a nine-year period has been released by the 180 Degrees Program. The report highlights the impact of the 180 Degrees Program involving 2,659 Eastside Union High School District students over a nine-year period. The report was provided to the Eastside Union High School District School Board by Dean Renfrow, President of the 180 Degrees Progam during an August 2018 board meeting.
The findings detailed in the report highlight the positive impacts the 180 Degrees Program is having with youth. Click here: Success for a copy of the report.
Social Emotional Learning in After-school
- September 2017 - Quality after-school programming can be a successful strategy for students, families, and schools. Read more...
After School Results - Sacramento Chinese Community Service Center
- July 2017 - Second Semester 2016-2017 School Year Read more...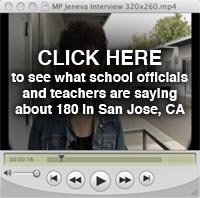 Through a powerful curriculum, the 180º Program provides the opportunity and educational framework for elementary school, middle school, high school and college youth to fully develop their internal compass so they can develop healthy goals based upon a foundation of strong personal values, reflective and critical thinking skills, and social awareness and responsibility.
The world that youth will inherit in the 21st century is filled with opportunity and hope. It is a world of global economies, rich diversity and ethnicity, advanced technological achievement, and rewarding career opportunities. The world also presents significant challenges and new issues that today's youth will confront as adults. The American society of the 21st century will require youth to achieve specialized credentials and skills to be most successful in life. Specifically, youth will be required to successfully obtain post secondary education degrees or other specialized credentials to qualify for a secure family wage career in the 21st century global workplace and economy. The importance of successfully completing a quality educational experience is higher today than at any other time so that youth can go on to complete additional specialized education.
In addition to high academic standards, youth will also require full development of character and life skills to more effectively navigate as highly productive and fulfilled individuals in our communities. And to ensure that youth stay the course while in school, opportunities for character and social emotional learning is essential in addition to high academic standards.
"Due to being in this class I set a lot of goals for my future, some are really big, but I feel like I can take them on because of what I learned in this class."— Els
Click to watch the video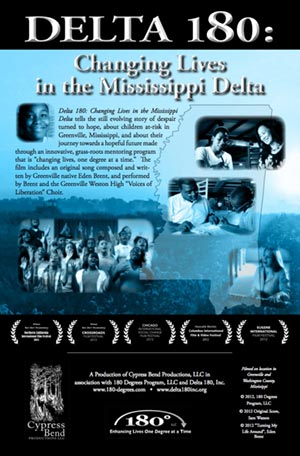 Delta 180: Changing Lives in the Mississippi Delta tells the still evolving story of despair turned to hope, about children at-risk in Greenville, Mississippi, and about their journey towards a hopeful future made through an innovative, grass-roots mentoring program that is "changing lives, one degree at a time." The film includes an original song composed and written by Greenville native Eden Brent, and performed by Brent and the Greenville Weston High "Voices of Liberation" Choir. The film demonstrates the effectiveness of the 180 Degrees Program.
Contact us for a copy of this inspirational film.